Add beauty and charm to any corner of your property
Introducing New Bulk Flower Mixes!
Grow what you like to eat!
Kitchen Gardens and More
You can have fresh nutritious foods, healthy herbs, and beautiful flowers, no matter the size of the space you are growing in!
Gifts that Give for Years!
Get a Whole Garden Growing!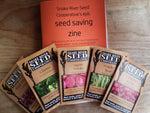 Beginning Seed Savers
Empower yourself to learn the awesome skill of seed saving with our epic seed-saving zine and 5 packets of easy-to-grow, easy-to-save seeds.
Order today!
Selected and cared for by Seeds-People around the Intermountain West
Seed Grower Collections!